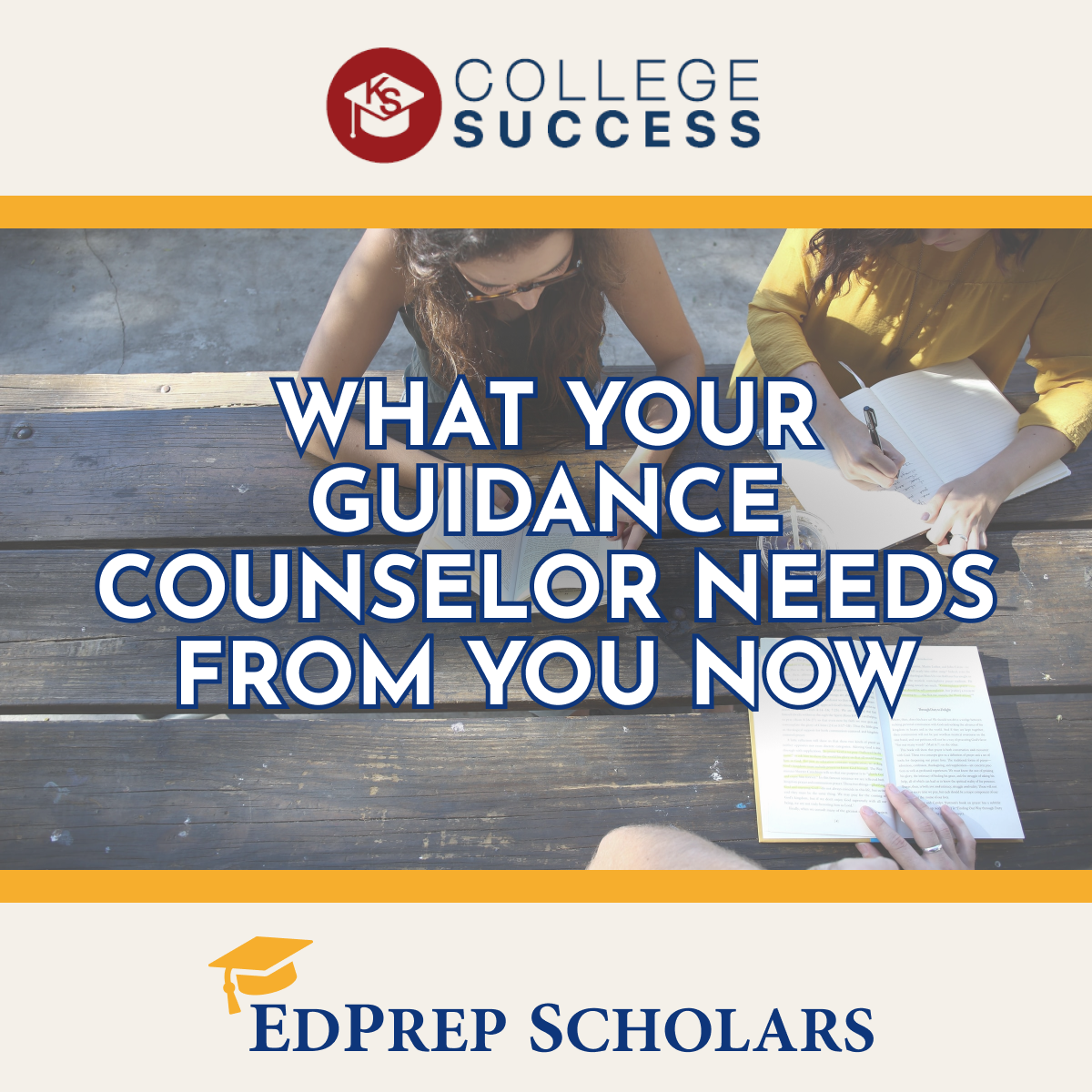 Many guidance counselors ask students (and sometimes parents) to fill out a "brag sheet," a document that helps the guidance counselor get to know the student better. The typical brag sheet has questions about a student's academic and non-academic strengths and accomplishments and asks for anecdotes or stories about the student's high school experience. Students and parents should take time to answer these questions thoughtfully and thoroughly – providing the guidance counselor with detailed information helps them write a strong college recommendation! Here's a college pro tip: the guidance counselor letter is just as important as letters of recommendation from teachers. In fact, this letter is arguably more important because all colleges require a guidance counselor letter, but not necessarily a teacher recommendation. However, the guidance counselor may not know a student as well as teachers know them, so it is important to provide the guidance counselor with as much information about the student as possible. Sometimes guidance counselors copy and paste information from the brag sheet directly into their letters, so this is an opportunity for students (and parents) to contribute to the narrative that colleges will have! 
If your guidance counselor does not provide a brag sheet, do not despair: students can send their guidance counselor an email with all the same information. Crafting a strong email to the guidance counselor who will be writing a letter to college for the student is a critical link to a successful application. In addition to telling the guidance counselor about themselves, students should ask about what information the high school will include about how COVID-19 impacted the student's schedule, classes, grades, and activities. Many guidance counselors will include a short paragraph in their letter in which they explain these things – sort of their own answer to the new Common App COVID-19 question! It will be important for you to know what your guidance counselor will include because you want to make sure that all of the information in your application is consistent. Whether the guidance counselor asks for a brag sheet, or a student sends an email on their own initiative, I recommend students book a few meetings with their guidance counselor to ensure they know you well. Students can bring a resume or activity sheet to these meetings and review it with their guidance counselor. They should spend some time discussing how they spend their time outside of class because a strong guidance counselor letter includes both academic and non-academic information about a student. 
KEY POINTS TO INCLUDE IN THE EMAIL TO THE GUIDANCE COUNSELOR. 
Students can fill out these short answer questions to help them think about what they want to tell their guidance counselor.
1) What is the academic accomplishment you are most proud of, and why you take pride in it. 
2) What is the non-academic accomplishment you are most proud of, and why you take pride in it.
3) What are your most significant contributions to your high school or to your community?
4) How do you see yourself getting involved on campus?
5) How have you grown since freshman year? (socially, academically, emotionally)
6) What do you choose to learn about outside of school on your own? 
7) What three adjectives would your friends use to describe you and why?
8) How would your teachers describe you as a student? 
9) Is there anything else that you want your guidance counselor to know about you? 
10) What one thing do you most want your Guidance Counselor to share with colleges?
HERE IS AN EXAMPLE OF AN EMAIL A STUDENT COULD SEND THEIR GUIDANCE COUNSELOR.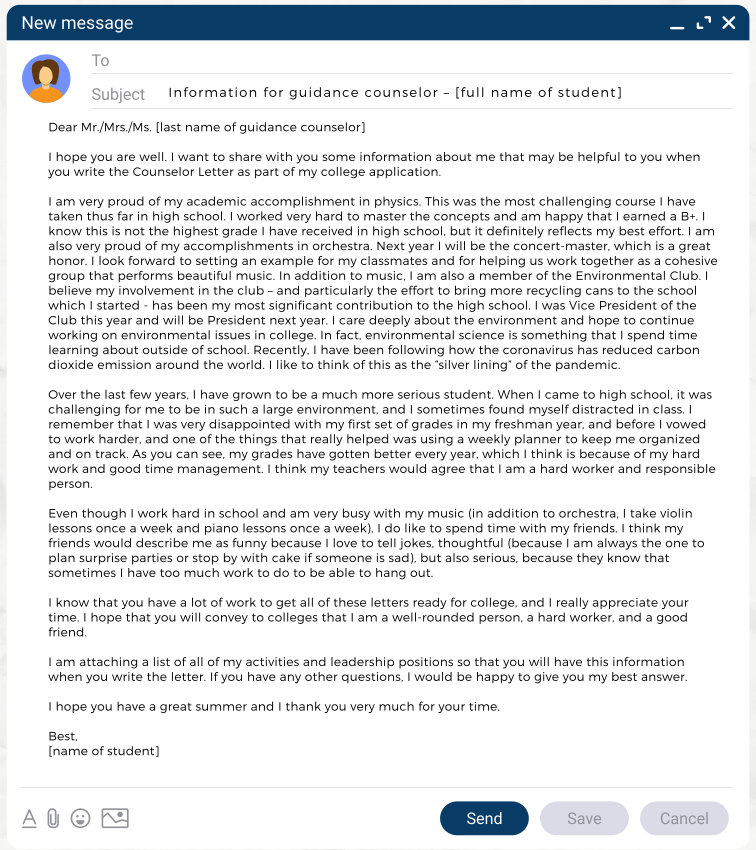 WHAT'S GOOD ABOUT THIS EMAIL?
IT COVERS ALL OF THE QUESTIONS A GUIDANCE COUNSELOR TYPICALLY ASKS ABOUT AND MAKES IT EASY FOR THEM TO WRITE A GREAT LETTER ABOUT THE STUDENT. 

IT PROVIDES SUPPORTING DETAILS THAT WILL HELP THE STUDENT STAND OUT.

THE TONE IS FORMAL AND POLITE.